It may not seem like the obvious choice for ancient plant medicine and ritual, but London has long been hailed as a melting pot for culture, diversity and well, just about anything you could want.  
The great thing about London is that whatever it is you are into, no matter how niche, you are guaranteed to find at least 10 other people who are as crazy about it as you - oftentimes more so, and who have already started a meetup group in its honour.  
When you do a bit of digging you can definitely find your fair share of traditional medicine ceremonies here, which is important considering the intensity of the city. 
But what we love about the cacao and the facilitators in London is that they all offer a unique and fresh approach to ceremony and ritual which makes for a not only a profound journey but a really fun and unique experience.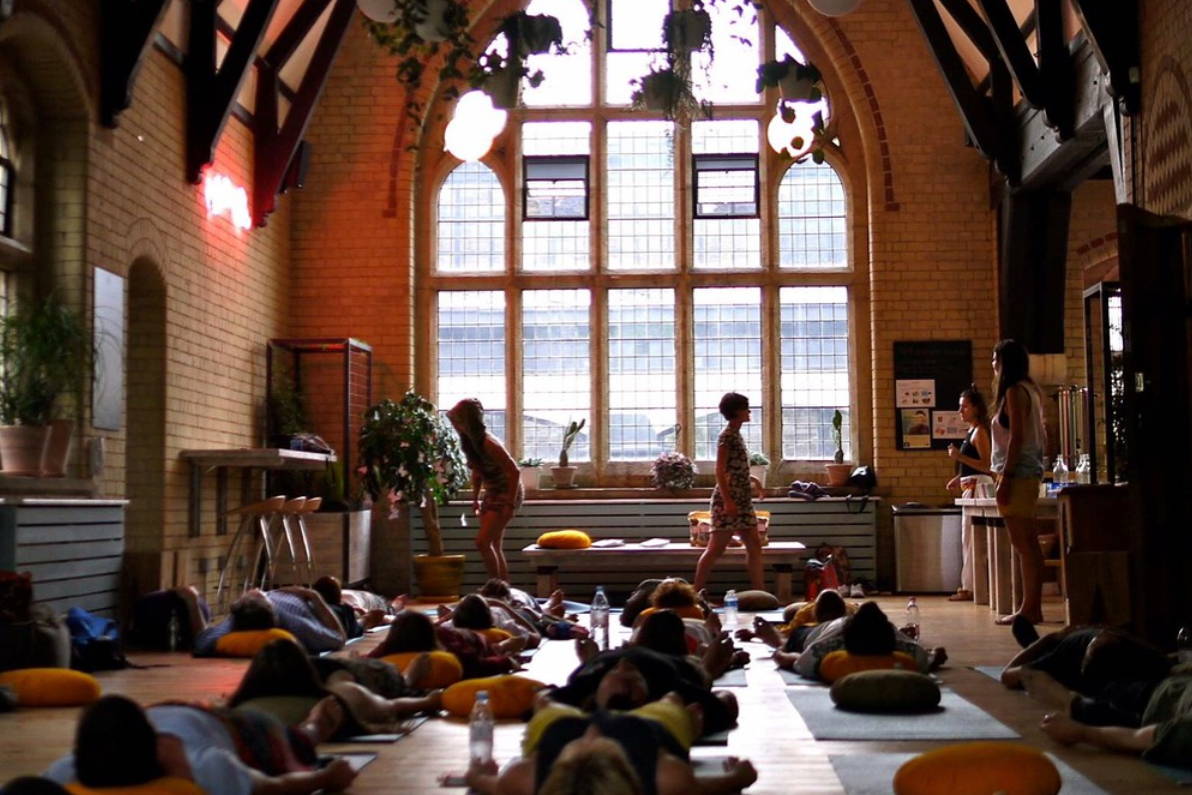 Rebekah Shaman guides a traditional ceremony at 42 Acres Shoreditc 
WHERE TO FIND THE BEST CEREMONIES 
Whether you're looking for a gathering that is deeply routed in tradition or something new and adventurous to shake things up, we've put together a list of some of the very best events the city has to offer. This is by no means an exhaustive list but you've got to start somewhere right? So here are some of our favs.
REBEKAH SHAMAN  
Rebekah is a shamanic healer with over 20 years of experience working with sacred plant medicines. As well as cacao Rebekah works closely with both Ayahuasca and Cannabis and holds annual Ayahuasca retreats in the Peruvian Amazon. 
Rebekah's monthly cacao ceremonies in London are conducted much like an Ayahuasca ceremony, with tradition and shamanism taking precedence. 
"I assists those living in the urban jungles to live more shamanically, reconnecting them back to Nature, and the natural cycles and rhythms of life." - REBEKAH SHAMAN
Rebekah supports Asháninka tribes, selling their beautiful cacao both at her events and online. 
If you want to go deep and aren't afraid to meet your shadow, then these events are for you!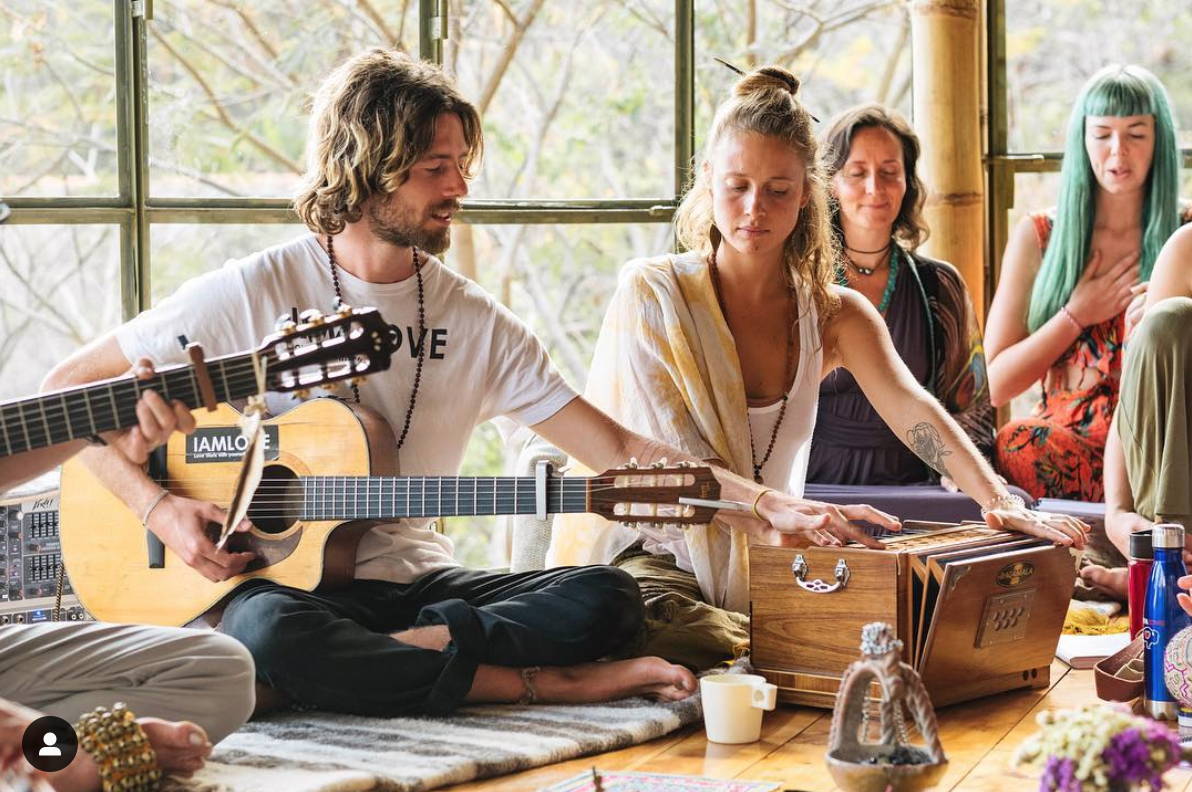 Mollie and Sam guiding one of their famous kirtan cacao workshops
UN MIND SPACE
UnMind is a sanctuary in the city created by musician Sam Garrett and embodiment coach and healer Mollie Mendoza. 
Together they host their own workshops and events as well as collaborations with visiting guest teachers. 
Mollie and Sam have a unique relationship with cacao and 
hold a beautiful safe space for self expression, encouraging guests to embrace their uniqueness.  
Tip: The Kirtan, Cacao Ceremonies come highly recommended. Be sure to check the event schedule as this busy couple are regularly traveling around the world sharing their magic.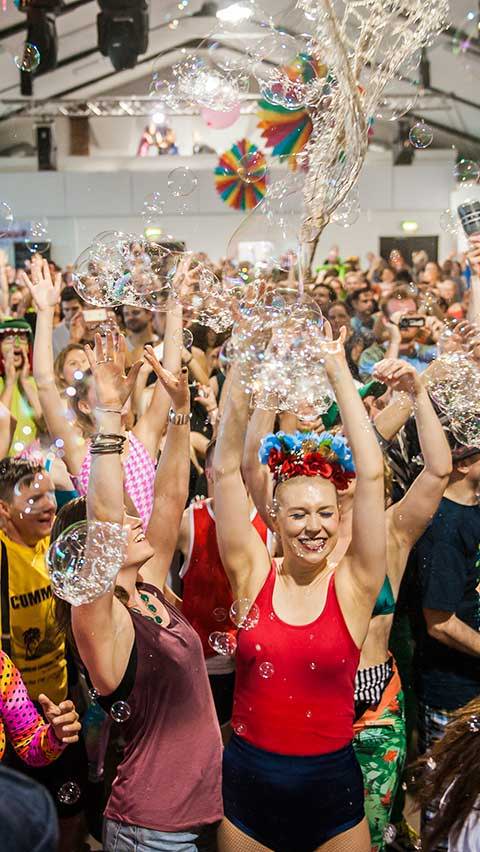 Pure bliss at a Morning Gloryville sober rave
MORNING GLORYVILLE
Okay so not exactly a cacao ceremony but they have ceremonial cacao and that's what's important. Morning Gloryville was born in 2013 when founder Samantha Moyo was looking for a fun alternative to a morning at the gym and a way to party without the negative impacts of drugs and alcohol. 
Over the past 5 years this sober morning rave has become somewhat of an institution with people from all over the world getting on board the conscious clubbing train. 
Expect inspirational, energising music and mesmerising visual entertainment as well as massage, yoga and personal motivation from trained and costumed performers. 
Morning Gloryville happens once a month at various locations around London.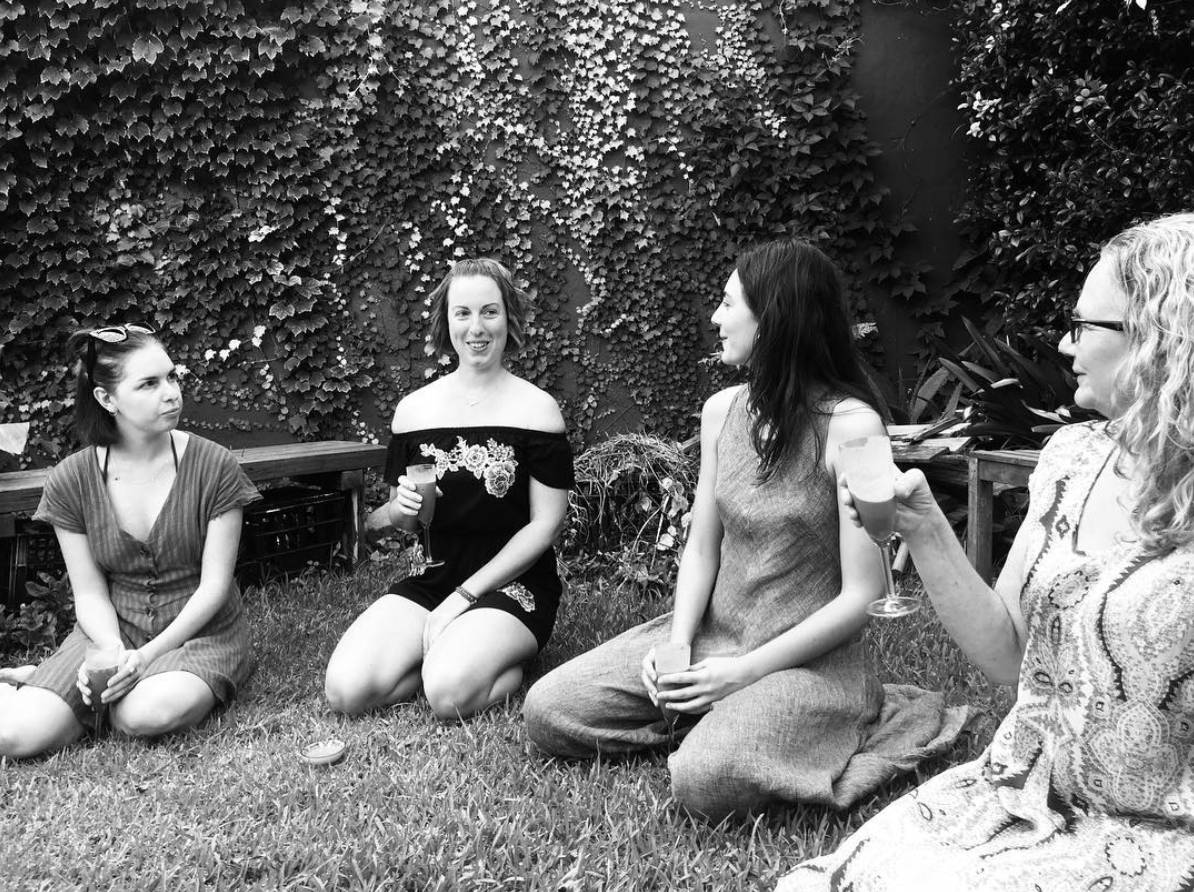 Amelia Zadro and The Alchemy of Sisterhood
ALCHEMY OF SISTERHOOD
The Alchemy of Sisterhood was created by embodiment coach Amelia Zadro as a way to create a safe and nourishing space for feminine energy to flow. 
Amelia draws on both Westerns practices such as psychology, art therapy and physical health and nutrition as well as Eastern traditions of yoga, meditation, tantra and shamanism. 
Her aim is to help people discover their highest potential and encourage alignment with their truest and most authentic self. 
Amelia's ceremonies are potent and soul-nourishing, she holds an incredibly safe container for her guests to journey both deeply and gently. 
CAFES THAT DO A KILLER CACAO
RAW PRESS 
Raw press started with their epic range of fresh and organic, cold pressed juices. Over the years they have become known as one of London's leading healthy eating destinations with their unique range of plant-based products which include raw, vegan doughnuts, or pronuts as they have been dubbed (yum!)
Raw press is the only cafe we know of that actually serve ceremonial cacao on their menu, (let us know if you know any others) so you can literally walk in and order your own personal ceremony to go! 
Raw Press Chelsea - 3 Ellis StreetLondon SW1X 9AL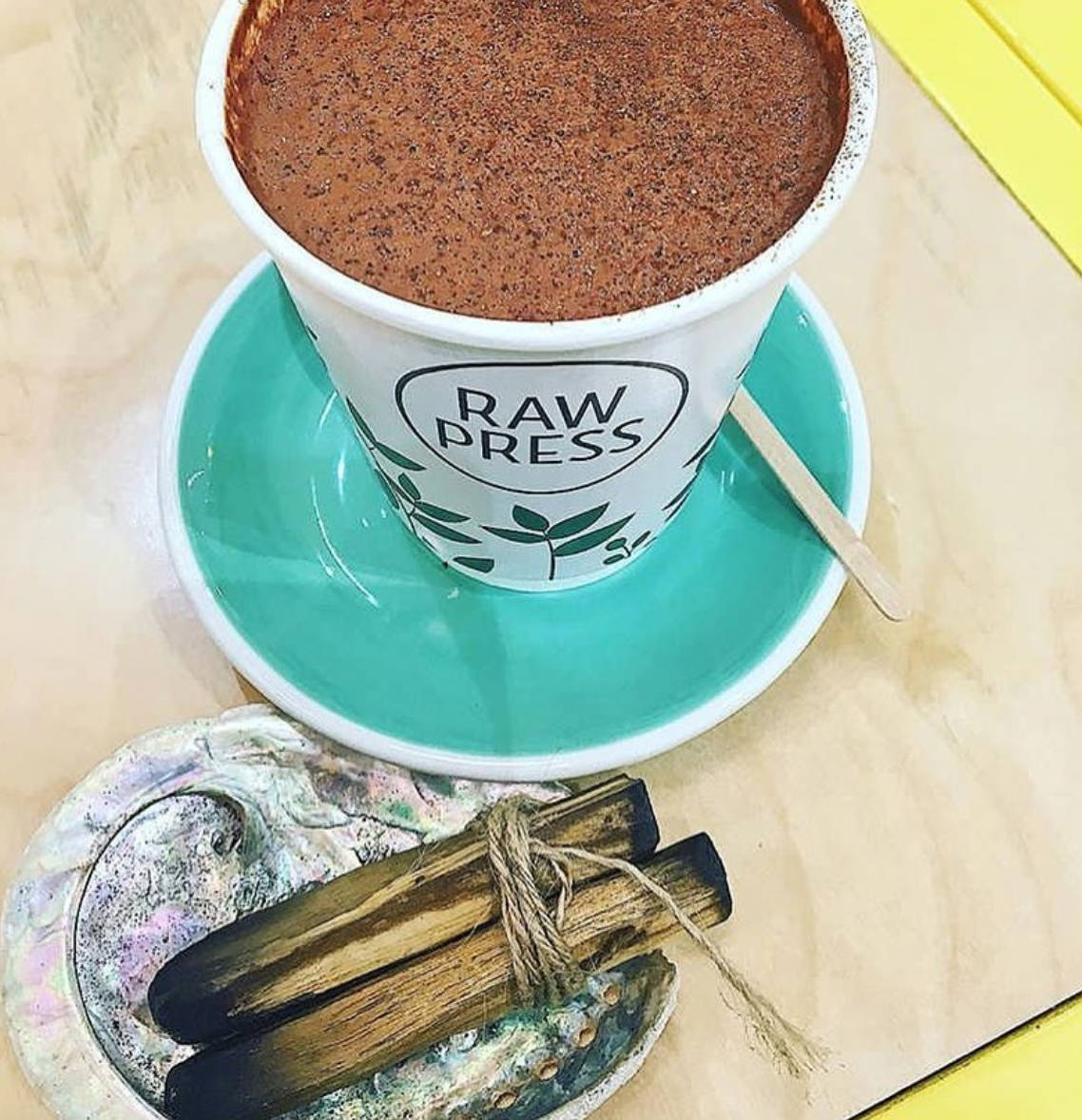 Ceremonial Cacao on the menu at Raw Press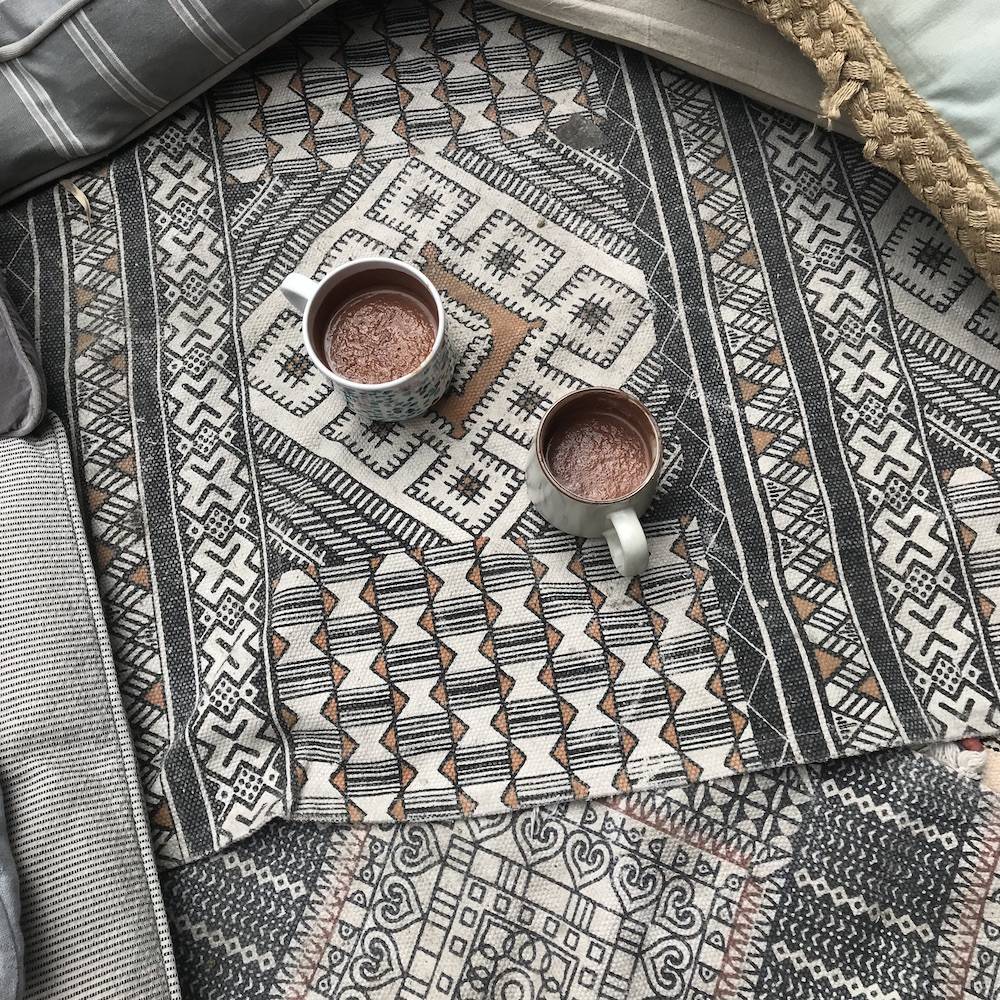 WE ARE VEGAN EVERYTHING 
New kids on the block WAVE, are cooking up all kinds of magic in the back streets of Hackney. 
Killer vegan food, killer coffee and killer cacao! Their extensive drinks menu includes speciality items such as salted and peanut butter hot chocolates (zomg!) 
To make things even better, they are hosting us, The Cacao Club, every Sunday throughout June to serve ceremonial cacao in their backyard.  
WAVE - 11 Dispensary Lane, Mare Street, Hackney, E8 1FT 
26 GRAINS 
This inspired porridge cafe is home to some of the sweetest little dishes you will ever taste. Healthy, heartwarming, and soul-nourishing this famous Neils Yard Destination will have you going back time and time again. 
Whilst they don't do ceremonial cacao, they get their hot chocolate right! Rich and decadent, with just the right amount of spice. Choose from a ginger hot chocolate or a turmeric hot chocolate, you won't be disappointed with either. 
26 Grains - 1 Neal's Yard, London WC2H 9DP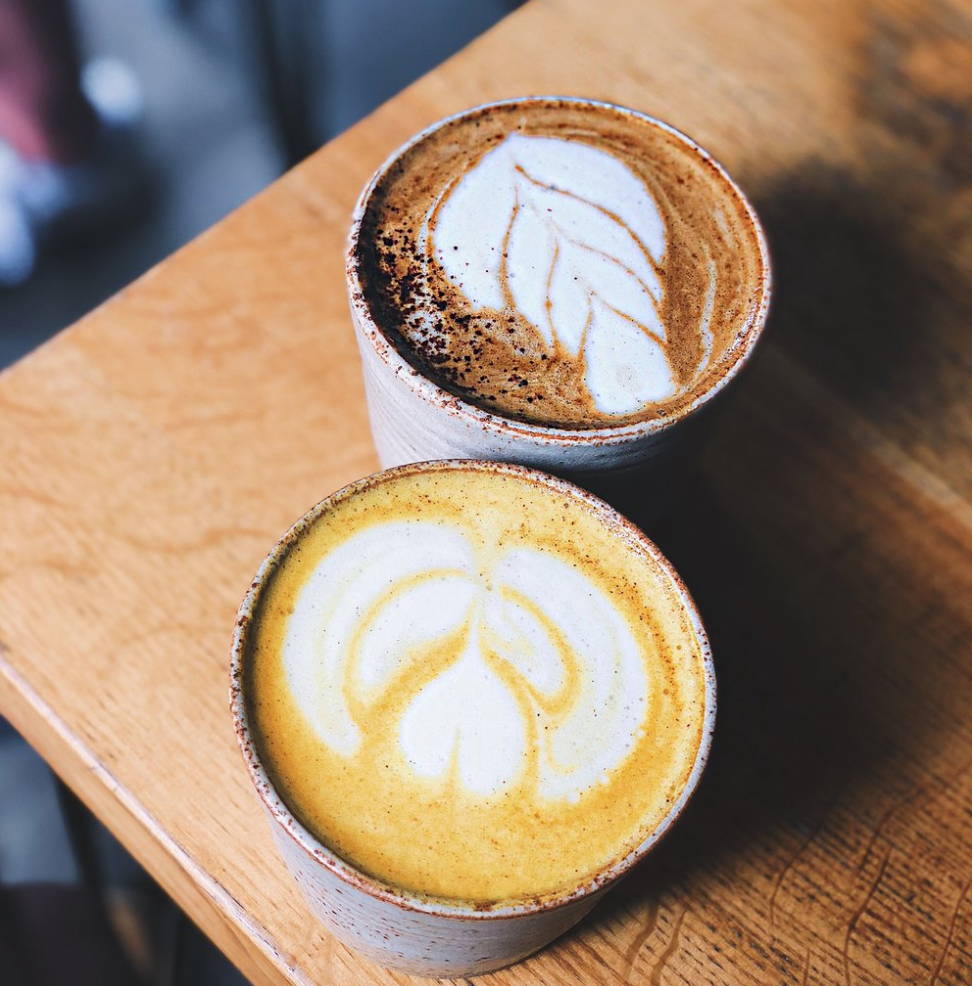 Did we miss something? Let us know who, what and where we can find the best cacao in London. 
Send us a message at - thecacaoclub@gmail.com
Leave a comment